Best Entry Level Road Bikes For Beginners
Taking a step into the Cycling world is going to be an amazing experience. I have been riding bikes all my life and absolutely love it!
I want to help you get started! When I first started out, it was hard to find out which bike I should buy because there are so many out there. That is why I decided to review some of the best beginner road bikes so that you can get a quality bike at a fraction of what it should cost you.
Instead of focusing on the cheapest road bikes, for this review, I am going to be reviewing bikes that will be the kind of quality you would find in your local bike shop but for a much cheaper price.
What does it mean by quality you would find in your local bike shop? Well, if you went to a big retailer like Target or Walmart, and bought a bike, you would not be getting a great deal. The thing is that local bike shops typically have better quality, are much lighter, and ride much better. Not to mention they last longer as well.
Buying a quality bike is important if you plan to ride it often. You do not want to buy one and then end up with an injury 3 weeks later by straining your back do you?
Now, most people will not understand when we talk about the quality of the bike if they have not experienced it. You may have a look at some pictures and take a look at the price and think there is really no different at all. I would suggest that you go to your local bike shop and actually try them out and talk to the people that work there. They are extremely knowledgeable and will be able to explain all the differences and components you can get from buying local. You will be shocked at how different the comfort and quality is.
But at the end of the day, you want to up your fitness game and get into road riding right? If you want to put on some serious miles but at an entry level, you should try to get a quality bike but at a great price. I am here to help you do that!
Must Know Info Before Buying Your First Road Bike
Bike Fit and Sizing
Bike fit and sizing are the absolute most important thingsyou must get correct when purchasing a road bike.
If you get a bike that has not been correctly fitted, it will be uncomfortable, but on top of that, it can cause serious issues such as strained back and sometimes carpal tunnel.
If you want to increase your fitness levels, buying a improperly fitted bike is not going to get you motivated to get up and go for a ride. How are you going to motivate yourself to do something when it is painful?
Well, you aren't. You MUST get a properly fitted bike. If you see a smaller or larger size and it is priced lower, do not buy it because you could save some money. This is a terrible idea.
When you first look at a bike, you want to measure it. They are typically measured from the middle of the crank which is where the pedals connect, to the very top of the seat tube. This length is taken in centimeters.
You want to get a bike where it is not too small so you are hunched over when riding it, but also not too tall so that you are having troubles reaching the pedals or handlebars.
Instead, when you are fitting yourself to get a bike, you want to hop on the seat and put the pedal all the way to the bottom. You want to have a slight bend in your knee (not straight!) but about a 20 degree bend. If you get a bike and put your seat either too far up, meaning a straight leg, or too far down, meaning a bend greater than 20 degrees, your legs will get tired much faster and your rides will end up being shorter.
Road Bike Sizes
To get an idea of where you should start sizing yourself at, here is just some guidelines. I am 5'8 and my current bike is 54cm.
50cm = 5'3-5'5
52cm = 5'5-5'7
54cm = 5'7-5'9
56cm = 5'9-5'11
58cm = 5'11-6'2
60cm = 6'1-6'3
How Are Road Bikes Different From Other Bikes?
There are a few things that make road bikes different. First is that they are much lighter weight than other bicycles and have much more narrow tires allowing for less resistance between you and the road. You also sit on a road bike differently which makes you more aerodynamic. This will allow you to travel further without using as much energy which is great for long rides.
If all you have ever used before is a mountain bike, you will be shocked when you try a road bike for the first time. With ease you can go much faster, coast further, and just have a better time on the road.
Going long distances on a mountain bike is a pain. Trust me, I have done a lot of that. There is really a giant difference when pedaling distance.
Good Components Are A Must Have
For your first road bike, you need to get the best quality parts you can which I will go over in this review. In a perfect world, when you buy a bike, it should last at least a couple years without needing any repairs whatsoever. The bikes I have chosen to go over should last you more than a couple years and will probably be working well 5-10 years from now.
It is important to find a happy medium between price and performance. After all, you want to get in shape and have not really had the chance to immerse yourself in cycling yet. I got addicted very early on but when you do not know how much you will ride, spending a ton of money may not seem worth it. If you end up buying one of these units and decide it is not for you, they should hold their value well and can always be resold.
Road riding is about pushing yourself to your limits and loving every minute of it! That is what makes it such a great fitness tool so I hope you give it a chance.
Best Versatile Road Bike for Beginners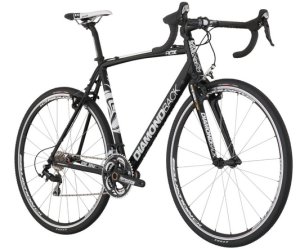 When I got my first bike, I knew that it had to work for all sorts of riding. I mainly wanted to ride on the road, but every now and again, I would like to ride on some trails through the local park. Because of this, I thought I would be reviewing at least one of these so here it is, the cyclocross bike. These are road bikes but they have one key difference. The tires are a bit wider and can be ridden on the road, the dirt, gravel, and sometimes even mud. They are great for all occasions!
If you end up buying a road bike and you have some friends who are going trail riding, you may be scared to join them as you do not want to wreck your new purchase.  When you have a cyclocross bike, they are extremely versatile so you go out with your friends, go on a long ride on the road, and even ride through gravel with ease. The thing is, if you want to go on longer rides, you can always just take off the knobbier tires and put on some skinny road tires. If not, keep them on!
These are great for all types of fitness. You can use it to work out, to get to work, even to just tour on. Riding something so versatile is really a joy. My favorite is that when I had this bike, I could use it even when it got cold and started snowing. Those knobby tires really do make a big difference.
Here Is What Cyclocross Is
I know several friends who bought really nice bikes but just did not get into the sport. Instead of selling their bike like I suggested in their local area on craigslist or something similar, they decided to keep it! Several friends ride to work each and every day, which is also a great way to save on fuel costs.
My favorite all around cyclocross bike that can be found online at a great price is the Diamondback Steilacoom CCX. It comes with a double butted 6061 aluminum frame. While the aluminum frame is not the lightest material ever, it is very strong and should be strong enough to carry some heavy riders but it also handles very well when you take it off road into rough terrain, which is why it is perfect for cyclocross. This 6061 aluminum gives a little more than other frames so your ride should be comfortable and enjoyable.
What really gives you value for your money with this bike is that it comes with some amazing wheels and a carbon fork. With bikes in this price range, you will be hard pressed to find a carbon fork as they are usually considered higher end. When you see that the Steilacoom has this fork and top of the line wheels, its a superb deal.
Keeping with the theme of high end components this bike has a 10 speed Shimano 105 system. If you are unfamiliar with component names, Shimano is one of the best most reliable shifters out there. If you have ridden a cheaper bike and had issues with mis shifting, you know what I am talking about. With a Shimano, you will shift smoothly and the bike will not fight against you.
I also really like the gearing. I went from a bike with only a few gears to one with a good gearbox. This is essential if you want to climb those big hills or get some amazing speed. It also helps you gain more fitness levels as you progress on your journey.
Steilacoom is the most versatile bike I have found that will meet all your needs and more. It can be used anytime of the year anywhere. If you want to pick up cycling and get a great value, this is the bike you want.
Click here to see the Diamondback Steilacoom CCX
Now that you know my pick for the overall best road bike for beginners, I am going to run through some options in different price categories.
Best Beginner Road Bike Under $400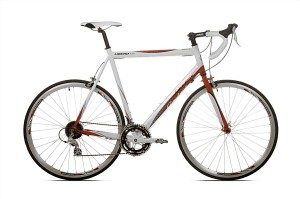 If you want to find a great road bike that is suitable for beginners then you really need to mention the Giodarno Libero which is a great entry level bike at a good price.
The Giodarno comes with the right things. At this price, you reach a level of quality where you will finally get some Shimano Total Integration shifters. Not sure what those are? Check out the Wiki article on them here. These are considered quality in the cycling world. You will finally stop miss shifting and can enjoy your rides. They are much more smooth than other components at a cheaper price.
The bike I ride now has 24 speeds but this one comes with only 16. You may think this is not good but the way they have geared this bike means that you will get an excellent range of pedaling. It is great for climbing those large hills and going fast on flat terrain. Sometimes, I have trouble shifting with the 24 speed bikes but since 16 speeds are a smaller range, these tend to never have problems.
The weight of the frame is usually what will influence the price of a bike the most. Most beginner road bikes will be moderately heavy. With the Giodarno Libero, you will get one of the lightest frames that money can buy at this price. They make use of a 6061 Aluminum frame which weighs about 30 pounds and comes with high quality components. Compare this to other bikes and you will notice they have bad shifting components and steel frames which are very heavy. You can clearly see which is the better deal here.
The only thing I do not like about this bike is that they only have 3 bike sizes. These typically work for most people because there is a big range, but if you are very short, or very tall, I would avoid this bike and look at something a little more expensive.
With that being said, you may only have about $400 dollars to buy your first beginner road bike. If that is the case, you should check this bike out!
Sizing
20 inches = 5'1 – 5'8
22 inches = 5'8 – 6'0
24 inches = 6'2+
Best Beginner Road Bike Under $600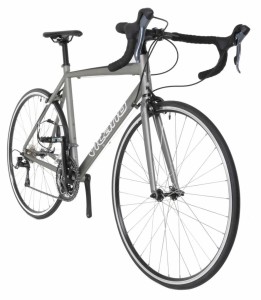 So you have gotten a little more money and would like to purchase something better than the Giodarno Libero. Great! I looked around and noticed that the Giodarno is pretty much the best beginner bike until you get close to the $600 range. Once you get up there, the Vilano Forza 3.0 becomes available.
I am really happy with how this bike handles and rides. It can really put up with anything you throw at it and is an incredible road bike.
So what are the upgrades on the Vilano Forza? The first thing to note is that your shifters are greatly upgraded. You now can get Shimano Sora. These are steps above what you can get on the Giordano and offers great shifting reliability and the shifts are quick and painless. These really will not need any maintenance for a long time and hold up well.
The next thing you get is double wall wheels. If you are a larger rider, these hold up great. If you are 200 pounds or more, you are going to need a wheel that will not break and this delivers. A lot of bikes do not come with this because it costs more money to produce. These are also incredible if you do a lot of riding through neighborhoods where there may be bumps on the road or sidewalk. They also put Kendra tires on the wheels which are a sturdy wheel that should last you a few thousand miles at least.
Overall, I found that the Vilano offered a very comfortable design and the upgraded components make this bike easily worth the extra money. Check out some sizing below and consider making this your next daily rider.
Sizing
50 cm = 5'2″ – 5'4
54 cm = 5'5″ – 5'10
58 cm = 5'11″ – 6'1
Best Beginner Road Bike Under $700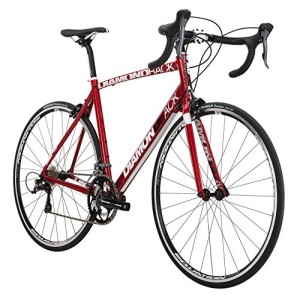 For just a little bit more money, you can get a small upgrade over the Vilano Forza 3.0. This bike is very similar but comes with some upgrades.
You will still get the double wall wheels and the Shimano Sora Shifters but when you take a look at the Diamondback Century 1, you will see that they use a 7005 aluminum frame. This makes the bike incredibly lighter than the other bikes listed here. Lighter bikes respond much better to user input and will start to feel much more like a race bike. If you want to increase the control of your bike and have it respond instantly to what you do, getting a lighter frame is essential.
The Century 1 comes fully equipped with brand name parts for the crank set. This is an upgrade over the Vilano as they use off brand parts. You also will get slightly higher quality wheels, but they are still double walled!
You will get handle bars that are a bit larger as well. Larger handlebars will help you control the bike more accurately. They also feel better on your hands because larger handlebars will not vibrate as much. Nothing is really more annoying than going on a long ride and your handles vibrating the entire way so this fixes that problem.
If you want to increase the quality of your ride by getting better durable parts, increased handling and rideability, I think spending just a little bit extra will be worth it in the long run. Higher quality parts means less cost of maintenance down the road and more joyful rides for you!
Sizing
50cm = 5'3-5'5
52cm = 5'5-5'7
54cm = 5'7-5'9
56cm = 5'9-5'11
58cm = 5'11-6'2
60cm = 6'1-6'3
Most Affordable Beginner Road Bike (With The Shimano 105!)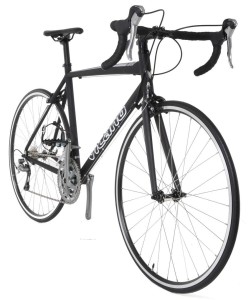 This is going to be close to the top of the line for any beginner because it comes with the Shimano 105. So what is so great about that set anyway?
Well, Shimano is a great company and the Shimano 105 is close to the top of the line for that line. It is great for any rider if you are an entry level cyclist looking to get into racing or a rider who is looking to do long distances. You will quickly notice the difference between the 105 and the lesser quality components.
Put it this way, you could buy a Honda civic and it would get the job done. But it just would not be the same quality or experience than driving a Porsche. Do you agree?
Not only does it come with a great set of shifters, but you will also get a carbon fiber front fork. The front fork takes all the vibrations from the road. That means if you have a carbon fiber fork, it will take a lot of that vibration and absorb it meaning that the handlebars will vibrate less and you will have a much smoother ride.
This dampening effect is essential for racers and long distance riders. It means you will be more comfortable during those stressful rides and can really put a new outlook on your fitness. Not only will it help with your mental clarity and riding performance, but it also means that the bike will be lighter. Carbon fiber is extremely light and if you have a carbon fiber front fork, your bike will be significantly lighter than other bikes in this list.
To keep the price entry level, the shift levers themselves will be Shimano Tiagra. These are a single step below the 105 but they are still excellent. The level of this bike is perfect for a beginner who is looking to make this a serious hobby. For the price and everything you get, this is a worthy purchase.
If you want to give your cycling a kick start and know you are riding one of the top of the line products for a novice cyclist, you cannot go wrong here.
Sizing
50 cm = 5'2 – 5'4
54 cm = 5'5 – 5'10
58 cm = 5'11 – 6'1
A Quick Note About Professional Assembly
When these bikes arrive at your door, they will come mostly assumed. However, you will still need to adjust the breaks and the shift cables. When I first got into cycling I did not how to do this and was really just lost.
I would highly recommend if this is your first bike or do not know how to do bike maintenance that you go to your local bike shop when your new bike and get them to assemble it. Typically they will charge under 100 dollars, and in most cases under 50 dollars. This is money well spent because you want it done right the first time.
If you are one of those people who like to do things themselves, you can give it a try. I like to mess with stuff like that so when I started I put it together myself and still could not get it fully correct. When I brought it in, they ended up charging me less because it was partially put together myself. I was charged for just a gear adjustment which cost me only $30. Not bad savings right?
Almost all bikes will come with a break in period. This means that after you ride it the first 50-100 miles, cables will start to stretch. This is very normal and they will need to be readjusted. Simply go to your local bike shop and get them readjusted. Once they are readjusted after the break in period, you will only have to do this every few years and should be ready to get out and enjoy cycling on the road!